A drunken thug who met his match when he tried to mug a tough ex-Gurkha soldier at knifepoint has been jailed for 10 years.
Jamie Hall managed to leave the broken blade of his knife embedded in Taitex Phlamachha's arm before his victim managed to detain him.
Hall, of Tumin House, Fairmeadow, Maidstone, admitted attempted robbery, causing grievous bodily harm with intent, having an offensive weapon and assault.
Mr Phlamachha, 38, and his wife Asha had just drawn £1,300 out of a cash machine at the Halifax Bank in Maidstone on October 7 last year when Hall pounced.
He had put £1,000 of the cash into his wallet and gave £300 to his wife to put in her purse.
Hall, 39, with his hood pulled up, grabbed hold of Mr Phlamachha in Week Street.
Hall was to discover he had a fight on his hands, as the ex-squaddie, who served for 13 years with the town's 36 Engineers, is a karate and taekwondo expert.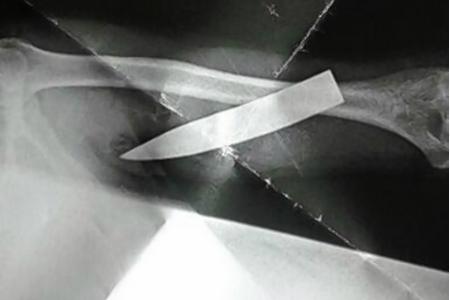 Hall pushed Mr Phlamachha against a wall and threatened to stab him if he did not hand over his wallet.
"Realising the grave nature of his predicament, Mr Phlamachha said he would give him the money if he let him go," said prosecutor Martin Yale.
But Hall lashed out with the kitchen knife, trying to stab his victim in the stomach. Mr Phlamachha attempted to block the blows and then felt what he believed was a scratch to his left arm.
"He tried to push Mr Hall away but he was too big and strong," said Mr Yale.
"Mr Hall pushed him onto the ground and stood over him. He still had the knife in his hand and was trying to get to Mr Phlamachha's back pocket where he had the wallet."
Hall shouted to Mrs Phlamachha to give him her purse as he continued to stab at her husband. Mr Phlamachha grabbed Hall's wrist but was stabbed in the left arm.
Mr Phlamachha, who runs Namaste Off Licence in Sandling, continued to fight back despite not being able to feel his arm. His wife called the police.
"He punched Mr Hall on the cheek to restrain him," said Mr Yale. "A member of the public intervened and told Mr Phlamachha to let him go because it was enough."
He was just about to let Hall go when officers arrived and arrested him.
Mr Phlamachha was treated at Maidstone Hospital and then transferred to Kent and Sussex Hospital, where the blade was removed.
Judge Michael Carroll, who had called the attack "heinous", imposed an extended sentence on Hall who will not be eligible for parole until he has served two thirds and will then be on licence for a further five years.