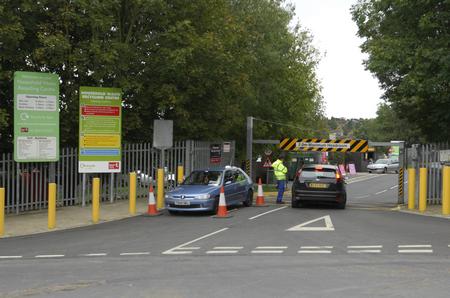 by political editor Paul Francis
A ban on sign-written vehicles using waste tips across the county has been lifted after complaints flooded in from people turned away - despite only wanting to get rid of household rubbish.
Kent County Council has done a rapid U-turn on its ban on vehicles that carry commercial advertising only days after highways chiefs declared most people were "quite happy" about the ban.
The U-turn follows the intervention of KCC leader Cllr Paul Carter and came amid complaints the new rules meant taxi drivers, driving instructors and even a magician - as well as KM Group staff - had been turned away because their vehicles carried advertising.
The new rule was designed to clamp down on the commercial dumping of waste from builders and others.
It led to a storm of protests, voiced first in the Kent Messenger the week the rules were brought in.
Peter Wildish, 70, of Woodcut, Penenden Heath, complained after he was no longer able to use a trailer he had bought on the strength of advoce from KCC staff.
He said: "For me to drive to Sittingbourne will cost £12 in fuel for a round trip. And I'll have to pay when I get there. We are already paying for this service."
Grove Green resident Sue Birchall's husband Steve was turned away in his van carrying rubbish from a bedroom clearance.
The Restharrow Road resident said: "We are trying to dispose of things in an environmentally friendly way and we are being turned away. It is just wrong."
Sittingbourne and Sheppey MP Gordon Henderson, labelled the rules a "Soviet-like diktat" and raised the matter in Parliament.
He warned it would lead to more fly-tipping and Dartford MP Gareth Johnson also urged a re-think.
Under the new rules, KCC had introduced a system in which people could
apply for special exemption vouchers permitting them to dump household
waste. That was branded overly bureaucratic.
It now appears staff at the waste sites will be told to use their discretion and allow those with branded vehicles to dump waste that is not commercial.
The dumping of commercial waste is still banned.