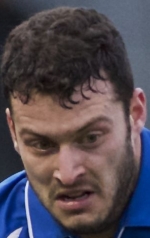 Tonbridge had defender Gary Elphick sent off in their 2-0 home defeat against Dorchester on Saturday.
Centre-half Elphick saw red following an injury-time scuffle with Charlie Clough, who was also dismissed.
Clough had opened the scoring for the visitors in the 26th minute.
Angels, who allowed striker George Purcell to leave for Margate on Friday, looked for a way back but their hopes of salvaging a point were ended two minutes from time with a goal from Ben Watson.
Angels sit 15th in Blue Square Bet South following their defeat.