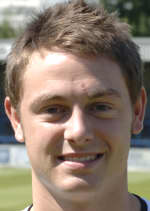 Frannie Collin scored a second-half winner from the penalty spot as Tonbridge closed to within a point of the Blue Square Bet South play-off places.
Mark Lovell opened the scoring in Angels' 2-1 home win against Maidenhead after latching on to a George Purcell pass in the 31st minute.
Tommy Warrilow's side were pegged back seven minutes later when Alex Wall found the top corner.
Wall went close to giving Maidenhead the lead before a foul on Purcell gave Collin, pictured, the chance to earn the points for Angels.
Tonbridge, who are now ninth, would have won by more but for Maidenhead keeper Billy Lumley, who denied Collin, Purcell and defender Gary Elphick.