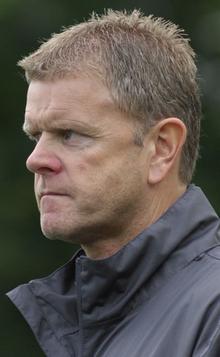 By Craig Tucker
Tonbridge manager Tommy Warrilow has been told to release two players to ease pressure on the club's finances.
Warrilow (pictured) met chairman Steve Churcher for talks on Tuesday night and will decide over the next week or so who to let go.
The Angels boss, whose Blue Square Bet South play-off hopefuls visit AFC Hornchurch on Saturday, said: "We've not had many home games lately, crowds haven't been as good as we'd hoped and we've held a couple of functions that haven't been brilliantly supported so we need to trim the squad by a couple of players.
"I don't want to lose anyone and it isn't ideal but the most important thing is the football club and we need to ease the burden a little bit.
"Whoever I release will know it's purely down to money and not because I don't think they're good enough."
Meanwhile, Warrilow is considering loan options for Mikel Suarez. The fit-again striker has defied expectations by returning to training only three months after a clash of heads with team-mate Lee Browning left him in intensive care.
Warrilow said: "I didn't know what to expect when he came back but he's just like he was before his accident. He's joined in the games at training and is even heading the ball."
He added: "I'll approach a couple of managers of clubs in his area (Surrey) where I'll know he'll get looked after. If I have no luck, I'll circulate his name."