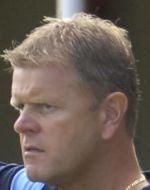 By Craig Tucker
Tommy Warrilow celebrates five years as Tonbridge manager on Saturday – but admits he still feels on trial.
The Angels boss (pictured) looks to mark his anniversary match by leading his side to victory at home to Evo-Stick Southern League Premier Division side Hitchin in the FA Trophy third qualifying round.
He said: "It will be five years to the day since I took charge.
"I love it here and am proud of what we've achieved but I still feel on trial because of the reaction whenever we lose a couple of games.
"The club's at the highest level it's ever been but all of a sudden you're not good enough and you feel as though you have to explain yourself. Equally, you can't get carried away by praise because we all know you can win games of football when you haven't played well."
Angels are only three points off the Blue Square Bet South play-off places after back-to-back wins. Their latest success came at Staines last Saturday, with nine-goal leading scorer Frannie Collin (2), Tom Davis and Lee Browning on target in a 4-1 victory.
But it's all about the Trophy this weekend, with Warrilow wary of the threat posed by Hitchin.
He said: "We play at a higher level but that doesn't mean anything. We saw that last year when Wealdstone reached the semi-finals as a Ryman Premier club. Hitchin have a couple of dangerous players and we'll be paying them the utmost respect."