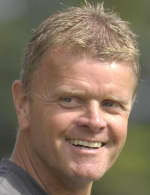 Tonbridge manager Tommy Warrilow will not accept a long coach journey to Wales as an excuse if Angels flop in the FA Trophy first round on Saturday.
Angels decided against an overnight stay and will instead travel to opponents Merthyr Town on the morning of the game.
The Welshmen play in Evo-Stik Southern League Division 1 South & West – two levels below Angels – but Warrilow, pictured, is taking nothing for granted.
He said: "We're staying overnight when we play Truro next week but I spoke to the players and they're happy to travel to Wales on the morning of the game.
"The journey is an easy excuse if the worst should happen and we go out but I'm not having that. We used to travel on the day back in the 80s so today's players should be able to handle it.
"I don't know a great deal about Merthyr and why would I!?
"What I do know is we can't go there as Big-Time Charlies expecting to win just because we're two leagues above them."