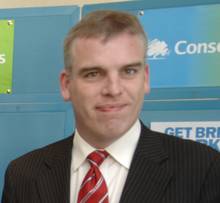 Tories have kept control of Maidstone council, claiming the victory as a vindication of tough cost-cutting measures taken during the recession.
Conservative councillors had feared that closing public toilets in Maidstone and introducing higher parking fares would be punished by voters.
And early indications on Thursday night were that the Lib Dems would overturn the majority of only one seat - especially when Cllr Brian Moss (Con), the former cabinet member for leisure, was defeated in Bridge Ward.
But the Tories ralled and ended the night with 28 councillors - the same number they had before the election. The Lib Dems now have 23, and there are four Independents.
Independent group leader Pat Marshall lost Bearsted to the Conservative candidate Heather Langley, while Tory David Burton celebrated a shock victory over Lib Dem candidate Daniel Moriarty in Park Wood. The party also gained in Shepway South, where Independent candidate Sheena Williams was defeated by Adrian Brindle.
The highest profile casualty of the night was Brian Moss - the deputy leader of the Conservatives and cabinet member for leisure - who lost Bridge to David Pickett (Lib Dem).
Mr Moss said: "It means I get my life back. Being a cabinet member is a full time job. I am supposed to be retired and I can now spend a lot more time with my wife. We will be off to Australia in a short while. But I am disappointed to lose."
The Tories also lost East ward to Jane Naghi (Lib Dem) and South ward to Derek Mortimer (Lib Dem).
Cllr Chris Garland (Con) said he was delighted to be able to take control of the council for another year.
He described it as a vindication of his party's moves to cut costs, and said the win was a mandate to push through the controversial £4m regeneration of Maidstone High Street which had been opposed by the Lib Dems during the campaign.
Cllr Garland said: "Maintaining control of the council shows that the Maidsotne public agreed with what we have done over the past two years - if they hadn't we would have lost.
"We have offered them a vision for the future, of prosperity and regeneration.
"We will now begin a programme of regeneration and crack on with the High Street. We will get Maidstone moving."
He added: "There will be a change to the cabinet. It is very sad to lose Brian, who has been a wise counsel to me for the last two years. He will be a sad loss to the Conservative Group and the council as a whole."