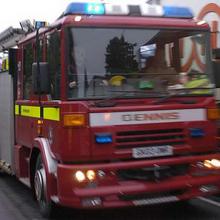 by Andy Gray
Firefighters tackled a blaze at a block of flats in Maidstone yesterday afternoon.
Three crews were called to an unoccupied second floor property in Bluett Street just outside the town centre at about 4pm.
It took about 20 minutes to extinguish the fire, the cause of which is currently unknown.
Two ambulance crews were on standby at the scene, but no-one was injured.