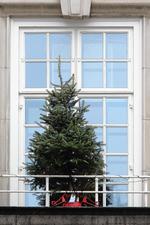 Tis the season of joy and goodwill, but this sad little Christmas tree perched on the balcony window of Kent County Council doesn't look so merry.
It's been looking threadbare for days in the final run up to staff breaking up for the holiday period.
Despite KCC having a budget of millions of pounds the little tree remained undressed in the cold - no baubles, tinsel or lights.
Perhaps somebody in the council offices forgot they left it outside.
Or maybe staff were trying to convey a message of 'hard times' to visitors going through the building's entrance below.
Either way, it's not going to please Santa or his little elves.