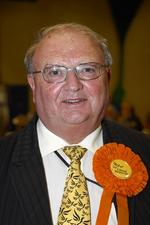 Long-standing councillor and former Mayor of Maidstone Malcolm Robertson has died.
It is believed the Lib Dem councillor passed away in the early hours of this morning, Friday, August 10, after suffering a heart attack. He was 67.
First elected more than 30 years ago, Cllr Robertson was Maidstone's longest-serving councillor and was widely regarded by colleagues and council staff as the "father of the town council".
Ward Cllr for Allington, he was also a member of Kent County Council's highways scrutiny committee and served as KCC Cllr for Maidstone Central Division.
He was Mayor of Maidstone between 1996 and 1997.
Following news of his death, tributes poured in from former colleagues, including KCC Lib Dem leader Trudy Dean, who said: "Malcolm was a tower of strength to his constituents, and he gave his time and commitment unstintingly to Allington, Maidstone and County problems. He was a gentle man whose work with volunteer organisations as a trustee of the Maidstone Marsham Street Centre demonstrated his concern for those in difficulties in their lives. Our thoughts go to Cynthia his wife at this time."
Richard King, Chairman of Kent County Council said: "Malcolm was a fine Councillor and a good friend and I'm greatly saddened by his passing. We worked together as Councillors on the Planning Applications Committee and his knowledge of, and interest in, this area was invaluable. Malcolm worked tirelessly for his constituents and will be greatly missed at County Hall. All our thoughts and prayers are with his family at this very sad time."