by Mary Graham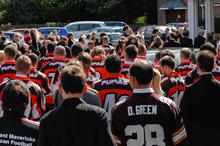 Hundreds of people turned out to remember a popular American Football player.
The funeral of Alan "Minty" Newcombe, 26, was held on Thursday at Vinters Park Crematorium in Maidstone.
Mr Newcombe, of Clarence Court, Weavering, whose passion was American Football was playing for the Maidstone Pumas in a match on August 16 in Canterbury, when he came off the pitch and collapsed.
At his service, his pumas team mates wore their orange and black shirts and formed two lines as the funeral cortege entered the crematorium grounds.
Family and friends paid their own tributes during the service.
His brother Jim told the congregation: "Alan was an amazing and caring person, who always put his family first. Whatever life threw at him he picked himself up and carried on.
"I'd like to recount some of his "Alanisms" - the name I gave to his famous one-liners, which he delivered in his big, booming voice.
"One of them was when Prince Michael of Kent opened a bridge in Maidstone and stopped to ask Alan: "What will you be doing after college?" and he replied: "Going down the pub.""