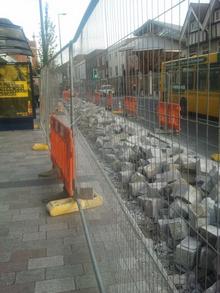 Here we go again – digging up the kerbs in Maidstone's town centre, just months after having dug it all up for pedestrians to enjoy new ones.
The only problem was dozens of people were tripping on the new surfaces, fitted in King Street and the High Street back in May as part of the town centre redesign.
People were unable to distinguish the join between the kerb and the new granite paving, and the issue resulted in weeks of articles and readers' letters about the problem.
So it's back to the drills and shovels this week to take up some of the paving in King Street – at a cost of £42,000. Maidstone Borough Council says that it is not extra money, claiming the original budget was underspent and repair cost was coming from the surplus.
A spokesman said: "We will salvage many of the blocks to be used elsewhere."
The council's cabinet member for economic and commercial development, Malcolm Greer, said: "Despite all the consultations and safety audits people have said they have fallen, which is distressing for all concerned."
He said once the stones had been dug up in King Street the granite would be replaced with black tarmac "to provide the maximum possible distinction between the different heights of the carriageway and pavement".