by Chris Hunter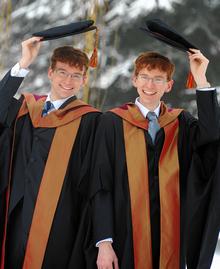 As one atom said to the other, we gotta split.
And that's just what identical twins Mark and Leigh Whitehead are set to do after graduating this week with PhDs in particle physics.
Originally from Barleycorn, Leybourne, the brothers went to Brookfield Infants School and Oakwood Grammar in Maidstone, where they discovered a joint talent for maths and physics.
Since then they've followed the same path to Warwick University, but are now, aged 26, going their separate ways on different research projects – Mark on an experiment at the Large Hadron Collider in Geneva and Leigh at Fermilab in the US.
Mark said: "A long time ago we saw a programme about some twins in their 90s who had always stayed together.
"The interviewer asked what would happen if one of them died and they both looked alarmed.
"We thought, we don't want to end up like that."
Despite that they remain in daily contact and share the same interests: playing guitar, football, Formula One, and of course, physics.