Identical twins Jo Hatfield and Diane Howell were used to sharing as children.
So years later they thought it perfectly natural to want to share a home together along with their respective husbands and children.
This cosy, or should that be, crazy arrangement has seen two wives, two husbands, and before they fled the full-to-brimming nest, four children, living under the same roof in Loose Road, Maidstone.
To some it's a curious existence, to others, the idea of being tied to a mortgage with the in-laws is pure hell.
---
---
But Jo, 58, said the separate broods have become one big happy family since they settled on communal living 24 years ago.
She said: "Everyone finds it hard to believe we all live together.
"But there are no secrets, no issues and anything we have to say, we say to each other as a group.
"We also have the same household account which both couples put the same amount into each month.
"The house isn't split at all - we share one kitchen, one dining room and one lounge.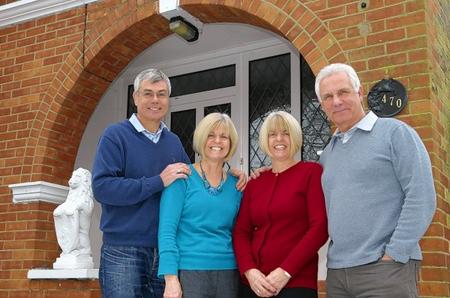 "The only thing we don't share are husbands."
Jo, who is the eldest twin by 10 minutes, and her sister pooled domestic resources in 1989.
The girls decided to set-up a bridal gown business from home - now called Jodi in Gabriels Hill - so the couples sold their respective houses and jointly splashed out £175,000 on a four-bedroom, semi-detached former doctor's surgery.
The husbands, who are both retired Kent policeman, were happy to go along with their wives home share scheme.
The families had enjoyed many a caravan holiday together, so Chas, 58, who is married to Diane, and Jo's husband,Graham, 60, were "laid-back" about taking it to the next level.
Not everyone was as enthusiastic about the idea, however, as Diane explained.
"Our solicitors advised us against it, they thought it wouldn't work, but we made it work," she said.
"the only thing we don't share is husbands!" twin jo hatfield–
"We had a massive garden for the kids to run around in and if the men were on shift work, Jo and I had each other and the kids for company.
"Our friends have became their friends and visa versa and overcrowding has never been an issue.
"Jo and I are from a big family and have never felt we needed our own space.
"When the children were here, the only thing which became law was all eight of us had to sit down for dinner together at 6.30pm.
"Our children still come back for dinner every Sunday, but now they've kids of their own, we're cooking for 12 or 16 instead of eight."
Before the couples' children left the happily-crowded house, Diane's girls, Tracy, 33 and Vicky, 31 and Jo's daughter Nichola, 34, shared a bedroom in the loft.
Jo's son Christopher, 32, slept in one of three upstairs bedrooms with the parents occupying the other two.
Diane and Jo, who have five grandchildren between them, are both agreed arguments between the couples rarely occur.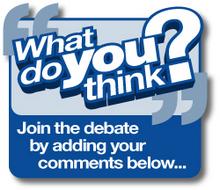 "We'd rather call them 'discussions', which we compromise on and they hardly crop up," grandmum-of-two Diane said.
"Perhaps it's because there's always someone else around that both couples feel they have to be better behaved.
"There's probably a lot of married couples who row more than we do," she added.
While far from being everyone's idea of domestic bliss, Diane and Jo are adamant they couldn't be without each other and their other halves living within the same four walls.
Diane said: "Jo and I have always been really close and living together like this is so much fun.
"People think it means twice the work because it's twice the number of people, but it's half the work if anything, everyone chips in.
"If we have any regrets at all, it's that we didn't all move in together earlier.
"And if we decide to move in the future, we'll all move together, that's a dead cert.
"Til death do us part."