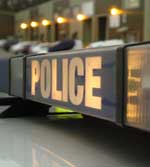 Two people have died and two people have been hospitalised following two car crashes.
In the first accident a 17 year old woman from Ashford and a 20 year old man from Maidstone were pronounced dead at the scene after a Ford Fiesta collided with a tree.
The crashed car was discovered on the Maidstone-bound side of the A20 Ashford Road, near Charing Crematorium, by a passing motorist just after 10pm on Saturday night.
Fire crews from Ashford and Charing as well as police and ambulance, attended the scene but the female driver and the male passenger were both pronounced dead at the scene.
Their next of kin have been informed.
The Maidstone-bound carriageway was closed until 2am this morning while officers investigated the collision and recovery work took place.
Police are appealing to any witnesses who might have saw the collision or may have seen the Fiesta in the area at the time. The witness appeal line is 01622 798538.
A second crash involved two cars in a head-on collision at about 11.20pm on Saturday night in Trinity Road, Ashford.
Both drivers of the vehicles - believed to be a Nissan and a Jaguar - were taken to hospital for their injuries, which are not deemed to be life threatening.
Fire crews from Folkestone, Aldington and Chilham attended the scene and had to cut a woman out of the Jaguar.
It is thought that there were eight passengers between the two vehicles, with five in one car and three in another.