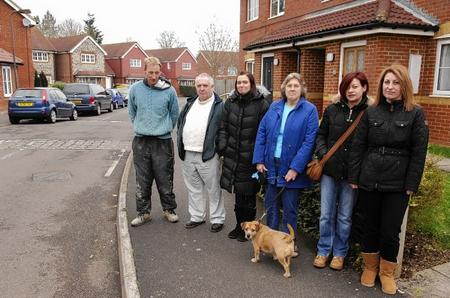 by Anna White
Commuters beware. Angry homeowners are on the warpath and they've got your number.
City workers have sparked a campaign in a village estate where people are fed up with cars being left on their streets and obstructing their driveways.
Families in Lime Trees, Staplehurst, are drumming up support for a road restriction to be enforced in an effort to stop people leaving cars outside their homes instead of paying railway station parking costs.
The residential streets are a five-minute walk through an alleyway to Station Approach, where drivers are charged a daily fee of £5.50.
Although not a private estate, homeowners are identifying repeat parkers and posting pictures of their cars on a private Facebook page. It is called The Lime Trees Massive vs. Commuters Parking in Residential Areas.
The group has almost 60 members, including Julia Loesercorr, of Greenhill.
Miss Loeser said: "It's become a joke. They are inconsiderate towards people who actually live here. I've tried to ask them nicely but I've been laughed and sworn at, and now I've had enough."
The campaigners said the issue had got worse since the station parking charges increased by 50p last month.
Miss Loeser, 39, added: "I'm sorry, but if you work in London then you should expect to pay the costs. It shouldn't become our problem."
The group believe that if parking was banned between 10am and 11am, this would stop the problem of cars being left from 7am to 7.30pm.
This would be similar to the parking enforcement on the other side of the alleyway connecting the estate to Station Approach.
Drivers are not allowed to park there between 10am and 10.30am, and 2pm to 2.30pm, Monday to Friday. Miss Loeser and fellow campaigner Jo Pow raised the issue at a meeting of Staplehurst Parish Council and were advised any decision would rest with Kent Highways.
Cllr Richard Lusty (Con) met with homeowners at the village library, in The Parade, on Saturday, to discuss their options.