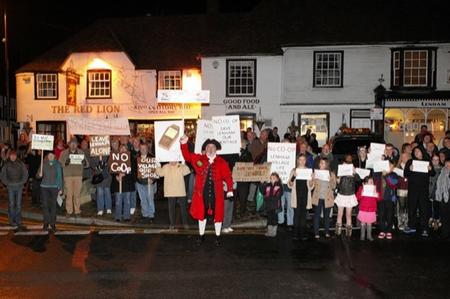 by Anna White
A village has put on a united front as it prepares to fight plans to open a national supermarket on its doorstep.
More than 100 people met in Lenham village square last night to stage a protest against the Southern Co-Operative.
The company wants to replace the former ironmongers in Faversham Road, with a food convenience store.
A formal application is yet to be submitted to Maidstone council but the idea of having a branded shop in the community has been greeted with mass opposition.
Andy Ratcliffe, who lives nearby in Sandway, said: "A Co-Op would kill this village. It would most probably undercut the independently owned businesses and would end up closing the bakers, butcher, post office, pharmacy and florist.
"We can't let this happen to such a unique community."
The campaign has received support from TV personalities Ian Hislop and Carol McGiffin, and Hugh Robertson, the MP for Faversham and Mid Kent.
Mr Robertson's constituency office was above the ironmongers when it was destroyed in an arson attack in 2010.
Many of the protesters from last night's demonstration are expected to attend a public meeting with the Southern Co-Operative and Lenham parish council, on Saturday.