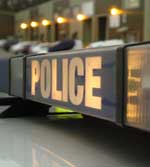 by Angela Cole
Motorists in Maidstone are being urged to keep their vehicles secure after police found seven which weren't in just one evening in the town.
Two neighbourhood officers who patrolled the outskirts of Maidstone last Wednesday on the lookout for cars which had been left insecure following a recent spate of thefts found seven that would have been appealing to a thief. Some had doors unlocked, others had open windows while some had valuables such as mobile phones, cash and bags on clear view.
The officers spoke to the owners of the cars and also handed out leaflets providing information about vehicle crime prevention.
Insp Geoff Wyatt said: 'It takes a thief literally seconds to steal your belongings from a car. By simply locking your car, removing valuables and taking them with you will reduce this crime.
"A thief will wander around a neighbourhood looking for opportunities; by removing items from your car you remove the opportunity. By remaining vigilant you can keep your car and personal possessions safe and prevent the upset, cost and inconvenience of having to repair car windows and replace stolen items."
Police top tips to keeping your car safe include locking the doors, windows and closing the sunroof; don't leave anything on display - even a jacket; wipe away suction marks from your sat nav on the windscreen or dashboard; never leave keys in the ignition and, if possible, park in a garage, secure car park or well-lit area.