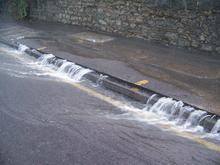 by Angela Cole
Hundreds of families were getting back to normal today after a burst water main left them without water for the day.
The 12-inch water main burst in Loose Road, Maidstone near the junction with Heather Drive at around 4am yesterday.
A team from South East Water were quickly on the scene to repair the main, which involved cutting out and replacing a 4m-long section, but the work was hampered by the large number of utilities in the road.
Many homes in the area had low pressure or no water, so bottled water was handed out.
The repair was completed just after 9pm.
A South East Water spokesman said: "We would like to thank those people affected for their patience while we carried out this emergency repair and we are sorry for the disruption caused."