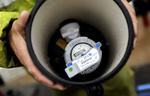 Nearly 2,000 water meters are to be installed in Snodland from next week.
It's part of South East Water's Customer Metering Programme to better manage supplies.
Installation will take place in households across town during the next eight weeks.
Charles Healey, metering manager at South East Water, said: "This scheme forms a key part of our plan to manage the future water supplies for our 2.1 million customers as well as the environment.
"Installing meters will give us the tools to manage demand for water by helping us detect leaks and encouraging customers to think about their water use and behaviour."
Installation work is due to begin on Monday. January 14.
It will be carried out in Birling Road, Townsend Road, Taylor Road, Midsummer Road, Apple Close, Nevill Road, Oxford Street, Godden Road and Saltings Road.
Residents are being advised to be wary of bogus callers during this time.
Mr Healey said: "While work is taking place, South East Water and our contractor Clancy Docwra may need access to your property to verify your water supply.
"Make sure you check the identity of anyone who claims to work for South East Water before letting them in.
"If in doubt, keep them out."
The south east has been classed as an area of "serious water stress".
According to South East Water, meters create a fairer way of paying for supplies and customers who have one installed use 10% less water than those who don't.
The company said it has a range of financial support measures to help customers who may have difficulty paying any increase in their new metered water bill.
For more information call 0333 0000003 or email: www.southeastwater.co.uk.