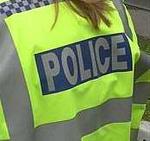 A driver was taken to hospital after a three-car crash near Maidstone last night.
It happened at about 5.50pm on the London-bound M20 between Charring and Lenham.
The woman, who was driving a Smart Roadster, crashed into the central reservation.
Two cars following behind were also involved in the crash.
The woman was taken to the William Harvey Hospital, in Ashford, with minor injuries.
No one else was injured.
All three lanes of the M20 between junctions 9 and 8 were closed until about 8.30pm.