by Chris Hunter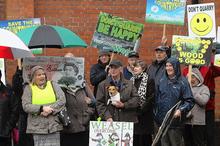 A four week battle that could hold historic significance for the future of English woodland has begun.
Protesters turned out in force at Oakwood House, Maidstone, on Tuesday, to greet officials arriving for the start of the public inquiry into Gallagher Aggregates' plan to quarry 81 acres of Oaken Wood near Barming.
Observers say the inquiry will set a national precedent – as the first big test of new planning guidelines on ancient woodland.
Sarah Cooper, of the Save Oaken Wood campaign group, said: "The inspector isn't local so most people thought it would be a good idea to show him the level of concern."
Barristers on both sides laid out the opening arguments before inspector Ian Macpherson; Gallagher's Andrew Tait arguing there was a plain need for digging up the ragstone under the wood - which he said was not ecologically valuable anyway - and the Woodland Trust's Robert Walton arguing just the opposite: that the woodland was undebateably ancient and of such value that outweighed the need for quarrying.
Campaigners worry that the guidelines in the National Planning Policy Framework, which came into play earlier this year, provide less protection for ancient woodland than was previously offered – by stating woodland should be protected unless the need for and benefits of development "outweigh the loss."
Read more in Friday's Kent Messenger.