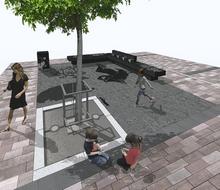 by Angela Cole
It's been more than two years in the making but now Maidstone's multi million pound High Street revamp has finally got underway.
The project, being carried out by Eurovia on behalf of Maidstone council, will eventually see new granite paving, lighting and seating areas in King Street and the High Street down to its junction with Pudding Lane.
Maidstone council's cabinet member Malcolm Greer (Con) said: "I'm dead chuffed it's starting.
"It's been two and a half years - now we can actually drive this forward."
Work at the bottom of the High Street near the river is not part of the scheme, although the council has pledged that it will carry out the work when the money is available.