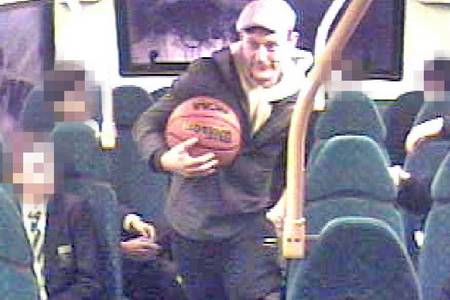 This man is being hunted after baring his buttocks at a bus driver before waving his false teeth at schoolboys and stealing a basketball.
The yob pulled down his trousers when he was told he could not board the number 7 bus near Tonbridge Castle in the High Street.
He then approached a group of children on the top deck of a number 77 Arriva service from Tonbridge to Kings Hill.
A 15-year-old boy said the man swore at him and his friends, took out his false teeth before waving the dentures around.
The man, who police believe was drunk, even asked one of the boys if he would like to put the false teeth in his mouth.
The man then demanded the teenager's basketball before fleeing the bus at Hadlow and running down Carpenters Lane.
The incident happened between 4.18pm and 4.40pm on Friday, January 11, but police have only just released details.
Detectives have reviewed CCTV footage and now want to speak to the man pictured or anyone who can identify him.
Witnesses said the offender was a slim, white man in his mid-30s with short hair. He had false teeth, a pierced tongue, and was wearing a grey cardigan and dark blue tracksuit trousers.
DS Simon Barnes, from Kent Police, said: "No one was significantly injured but this was an unpleasant episode for the victim and his friends.
"We have made various attempts to identify the man pictured, who we would like to speak to in connection with the incident, and are now seeking the public's help in identifying him."
Anyone who can help police is asked to phone Kent Police on 101 - quoting crime number YY/773/13 - or Crimestoppers, anonymously, on 0800 555 111.