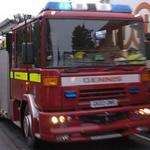 A faulty appliance probably caused a motor cruiser moored on the River Medway to go up in flames.
The boat, thought to be worth about £100,000, had been left severely damaged by the fire, which started shortly before 11am yesterday (Thursday).
Firefighters from Strood fire station were called out to Strood Yacht Club, after a member spotted smoke coming from the vessel.
Three fire engines, along with a Kent Fire and Rescue boat, were sent to the scene and firefighters wore breathing apparatus to get on to the boat and put the flames out.
It was quickly established that no one was onboard as crews used thermal imaging camera to detect if anyone was inside.
The cruiser was moored alongside a pontoon at the club, in Temple Manor Marsh, Knight Road, and firefighters used a portable water pump to get water out of the River Medway to fight the flames.
A spokesman for the crews said: "We managed to stop the flames spreading to other boats and members helped out by moving other boats which were nearby.
"It has suffered a lot of damage to the inside of the vessel, the soft furnishings and such like, but the structure of it is OK.
"We think it may have been caused by a faulty dehumidifier which was on board which had overheated."