Flagship academies in Medway have been celebrating their new state-of-the-art facilities.
Both Strood and Brompton academies held ceremonies last week to mark the work done to transform their sites with new classrooms, sports pitches and performing arts facilities.
On Thursday, fashion designer Zandra Rhodes returned to Strood Academy, in Carnation Road, for the opening of its new £27 million buildings.
The fashion designer turned the first turf to launch the start of building work on the site in March 2011.
She said: "I can't believe how quickly they have built this. I think it is a great asset for Strood and they have got something to be proud of."
The buildings cover more than 14,000sq m, includes six science laboratories, library and seminar spaces, a sixth form centre, dance and drama studios and eight IT suites.
The site also boasts a wind turbine, the first at a school in the Medway Towns, which generates up to 17% of the school's electricity.
Student Annabelle Barrett, 16, said: "The facilities here are really good. It is a much cleaner environment now and the atmosphere has changed completely. It's a great place to learn."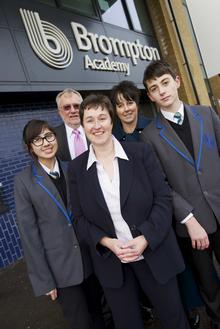 Brompton Academy, in Marlborough Road, Gillingham, has also been celebrating at a topping out ceremony marking the end of the exterior construction.
The building work includes an all-weather sports pitch, a scientific lecture theatre, drama theatre, sports hall, fitness suite and coffee bar, which is due to be completed by July.
Head teacher Judy Rider, pictured right with pupils and staff, said: "Our current building is 54 years old and has under-sized classrooms. This new build is about creating a current learning environment that is going to be hi-tech with students using iPads and teachers no longer using whiteboards.
"It is the way forward for learning and the buildings are fantastic."