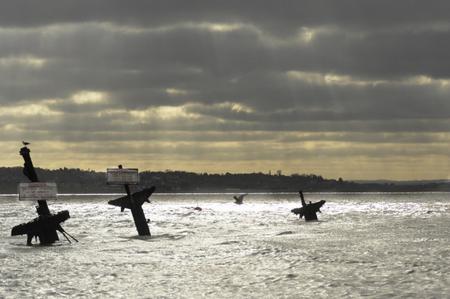 by Alan McGuinness
The bill for making the sunken warship SS Richard Montgomery safe could be as high as £30million, a bomb disposal expert has revealed.
Michael Fellows said dealing with the thousands of tonnes of explosives onboard the US vessel was perfectly feasible, but it would come at a cost.
The Montgomery sunk in the estuary off Sheerness in 1944 and has lain dormant on the sea bed ever since.
Because of its explosive cargo many fear it is an accident waiting to happen, and warn of dire consequences if the munitions were to blow up.
The doomsday claims include predictions the blast would be one of the biggest non-nuclear explosions ever, cause shockwaves that would blow out windows as far away as east London and cause Britain's first tsunami.
Not surprisingly, it is seen as one of the major obstacles to the construction of a Thames Estuary airport.
It is Mr Fellows' job to remove such obstacles, and he said dealing with the Montgomery was perfectly realistic. The 73-year-old, who has been involved in munitions disposal for more than 50 years, said: "It's not something new, it has been done. There are people that specialise in it."
The former Royal Navy diver set up Fellows International in the 1990s and since then the company has worked across the world, from Northern Ireland to Iraq.
During his time in the Navy he led the teams that de-ammunitioned three ships – HMS Drake, Natal and Vanguard.
He said the technology is there to tackle the Montgomery, but a "proper" survey needs to be carried out, one which examined whether the munitions were still a threat.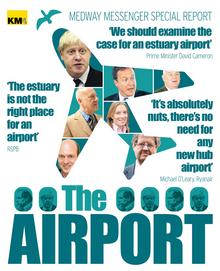 The Maritime Coastguard Agency checks the condition of the wreck each year, but Mr Fellows said this was meaningless without information on the potency of the bombs.
The "proper" survey advocated by Mr Fellows would take a couple of months and involve taking samples from the water and analysing the content using a remote operated vehicle the size of a shoe box.
This could cost a few million pounds, Mr Fellows said. As for the operation to make the ship safe, a remote operated vehicle could cut down into the ship, remove the weapons and take them to an ammunition dumping ground, Mr Fellows said.
A blast protection wall four or five metres above the high water mark would be built on the shore, "just in case".
In all, the operation could take around 18 months.
The interview with Mr Fellows is part of a special report in this Friday's Medway Messenger on plans for a Thames estuary airport (pictured above right).
Our 16-page special will take on some of the myths and facts around schemes to build an airport twice the size of Heathrow.
Only in the Medway Messenger - out this Friday.