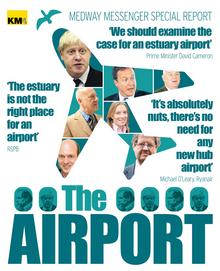 Building Europe's biggest airport near Medway would be "well worth it", according to Dudley Pearce, chairman of historic Rochester's High Street Forum.
But it would strain infrastructure and destroy people's lives, says David South, MBE, despite him owning a Lordswood building firm.
Their diverse opinions are among many in a 16-page special report (left) to be published this week by the Medway Messenger.
James Whittaker, the man behind a £650m plan to regenerate Chatham Docks, thinks a four-runway hub would help Medway thrive.
Yet veteran taxi driver Mike Smith says: "Every time I drive into an airport I can breathe and smell aviation fuel."
We approached 25 people, who we had not previously asked for their views about an airport, picking them out for their business or personal interests.
The results are not meant to be scientific. Instead they paint a picture of the diversity of opinion about so-called Boris Island, and the sheer range of people it would affect.
A pub landlord, a butcher, an anti-noise campaigner, a charity executive, a school pupil, a gardener and a regeneration guru all feature in our list.
Elsewhere in The Airport, published as part of the Medway Messenger this Friday, we have the full 65-year history of plans for an airport in Medway.
We will be trying to get to the truth about jobs,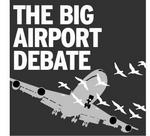 birds and the SS Richard Montgomery, the wrecked ship packed with explosives, which lies near the development site.
And we have several interviews with campaigners for and against the idea, some of whom rarely speak in public.
We will have exclusive details of one of the most controversial plans, and take a look at how Medway – as well as Gravesend and the Isle of Sheppey – would become a "no-fly zone" for all but the biggest jumbo jets.
Polls show 30% or more of people are undecided or confused about plans for an international airport in the Thames estuary, Cliffe or the Isle of Grain, despite the huge impact one would have in Medway.
It is with them in mind that we wrote our feature – available only in this Friday's Medway Messenger.