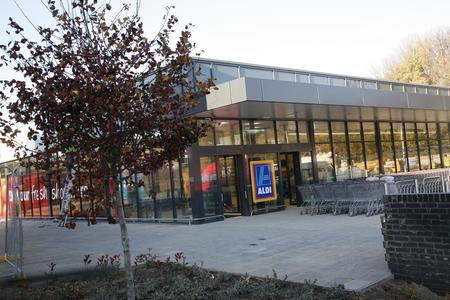 It was once the site of bartering by the Romans and now Friary Place in Strood is set to do a brisk trade once more.
A new Aldi supermarket will opened its doors on the site of Strood's former market tomorrow (Thursday).
Walls and tiled floors have been excavated from the 1,400sqm site in the town, whose name cames from the Latin word "strata", a term applied by the Romans to their paved roadways.
A Roman grave was found in the area in the 1930s, and the haul of coins discovered suggests an occupation of around 300 years.
The project first received the green light in 2006, but faced delays when the remains of an 11th century hospital were found on the site.
Permission granted in 2009 was only valid for three years, meaning the chain had to go back to the council for renewed permission.
Twenty new jobs have been created at the shop which will have 81 customer parking spaces and around 1,400 product lines.
The first 100 customers through the door to tomorrow will receive a golden envelope, enclosing a ticket to win a prize.
Area manager, Tim Davies, said: "After months of preparation, we're ready to welcome customers into our new Aldi store, one of several now open across Kent.
"The team and I are really looking forward to opening the doors and showcasing all that Aldi has to offer. With 100 golden tickets and some great 'Specialbuys' up for grabs, we're expecting plenty of people to join in the celebrations at the store."
The store opens at 8am.