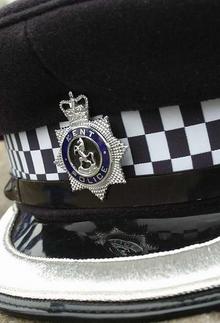 By Hayley Robinson
An amateur photographer who was arrested under anti-terrorism laws after taking a picture of a police officer, has made a complaint to Kent Police.
Writing on his blog Alex Turner says he was handcuffed and read his rights following the incident in Chatham High Street on July 8.
In a letter to the Professional Standards Department of Kent Police Alex claims he was initially stopped by two men who claimed to work for Medway Council as he took pictures near Snappy Snaps.
He declined to provide details of his identity when asked because he didn't feel he needed to as the men didn't identify themselves as police officers.
The men then called over a Police Community Support Officer who was later joined by another officer who questioned Alex further about why he was taking pictures in the High Street.
The arrest was made immediately after Alex took a photo of the officer as she spoke to a colleague on the phone in relation to him being stopped.
Alex writes: "As I was arrested I was handcuffed. I asked why she had arrested me. She stated because I had taken a photograph of her and that she considered this to be an unlawful obstruction.
"After a short time I was led up the High Street and detained in a police van for around 20 minutes."
Alex was 'dearrested' after police officers conducted a search and checked his identity through the driving licence he was carrying.
He adds: "I know a fair few people may say serves you right for a number of reasons. My response to that is it will serve you right when you wake up one day and realise you don't live in a free country anymore.
"I've been stopped nearly a dozen time under section 44. Up until now I've always provided my details. Today I decided not to. Seems that when I choose to exercise my rights I get arrested, cuffed and detained for doing so."
A spokesman for Medway Police said: "We can confirm that on Wednesday, July 8, at approximately 12.30pm a man was arrested on Military Road, Chatham. After a short period of time the man was de-arrested and no further action will be taken."
To see Alex's account of what happened visit http://monaxle.com