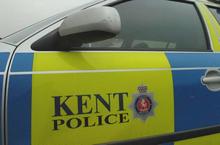 Kent Police is appealing for witnesses to reports of a robbery in which the victim was assaulted by a group of three men in Chatham.
It was reported that after 10pm on February 3, the victim used an alleyway on Jenkins Dale and noticed two men talking. After walking past them, it's believed the victim was punched in the back of the head.
When he turned to confront the two men, he was grabbed by one man who kneed him in the head. Another offender, who was standing nearby, then joined the other two men in the alleyway and they proceeded to punch, knee and elbow the victim repeatedly.
During the assault, the victim heard someone shout and one of the offenders ran towards the voice and spoke to them before returning and continuing the attack.
After stealing the man's leather jacket, which contained his mobile phone, the three ran off in the direction of Chalkpit Hill.
Investigating officer, DC Stuart Clayton, said: "This was an unprovoked attack in which the victim received a number of cuts and bruising to the face, as well as a broken nose.
"We are particularly keen to speak to the person that shouted out during the assault and spoke to one of the three men. I would urge them to come forward and help us with our enquiries."
One of the offenders is described as white, aged between 17 and 22, 5ft 8ins tall, clean shaven and with short blonde hair and wearing a white baseball cap, grey matching tracksuit top and bottoms.
The second offender is black man, aged between 17 and 22, 5ft 7ins tall, heavy build and with distinctive dark spots on his cheek. He was wearing a matching black tracksuit with a gold stripe down the arms.
The third offender was a white man, aged between 17 and 22, 5ft 7ins tall, athletic build, clean shaven and was wearing a dark jacket, dark coloured baseball cap, blue jeans and white trainers.
If anyone has any information call DC Stuart Clayton on 101, quoting reference XY/3963/13.
Alternatively contact Kent Crimestoppers anonymously on 0800 555 111.