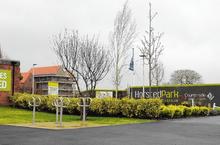 A controversial phase of a key housing scheme will go ahead – despite its own local councillors branding it "utterly insensitive".
Eighty flats have been approved for the former MidKent College Horsted site opposite Rochester Airport.
Yet no tenants would want to sit on balconies just 17ft from the busy Maidstone Road gyratory, furious Horsted councillor Trevor Clarke (Con) told a meeting on Wednesday night.
He criticised the 'cramped' design of the five blocks and claimed a 'chronic' lack of parking spaces would drive neighbours apart.
The flats are part of a wider 336-home scheme by developer Countryside Properties, which bought the former college site for a reported £26 million.
The outline scheme was approved in late 2011, and since then each stage has had to be given the green light separately.
Cllr David Carr (Con) said: "I wish we could turn this whole application down for not doing what it's supposed to do, but what can we do about it? I really don't know."
Councillors, who went on a fact-finding trip to a similar scheme in Chelmsford, claimed their hands had been tied by planning regulations from the former Labour government.
For full report see Friday's Medway Messenger.