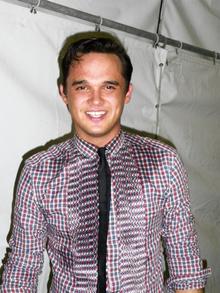 Kelly Brook, Timothy Spall, Gareth Gates and James Purefoy... they're all in today's celebrity-packed Medway Messenger - but we've got plenty of space for news, pictures and sport too.
We have an exclusve interview with a young woman viciously beaten on holiday, the first family tributes to a woman found strangled in a Chatham flat and speak to a family about why they attacked a man who abused their disabled daughter on Facebook.
Thousands of pupils in the Towns picked up their GCSE results yesterday. We've got coverage in today's paper and lots more pictures in Monday's Medway Messenger - don't miss your copy.
See if you can spot yourself in our pictures from a village fun day in Hoo - before pop star Gareth Gates (pictured above) turned up for an evening performance - as well as from the first community youth day at the Sikh temple in Lankester Parker Road, Rochester.
We have some great competition prizes - including West End theatre tickets to see Billy Elliot The Musical and your chance to see David Coulthard and Gary Paffett in action at Brands Hatch. They're all inside your What's On magazine.
Sport has nine pages of action, including how Gills chairman Paul Scally believes the last month will be defined as one of the most important in the club's history.
All this and lots more in the latest edition of the Medway Messenger - pop out and pick up your copy today!