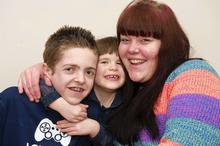 Kai Shersby's family were warned that if a bone marrow donor could not be found, he would not live to be a teenager.
Kai, then eight, had been diagnosed with stage three Hodgkin's lymphoma, a form of blood cancer.
Chemotherapy was unsuccessful and doctors told mum Aimee her son's only chance at survival was a bone marrow donation.
Three weeks later a match was found and Kai underwent the treatment that has saved his life.
Kai, from Twydall, is now 13, back at school and feeling better than ever before. Since his transplant in 2009, Kai has been in remission and is due to finish treatment in July 2014.
Aimee, 33, said: "I thought it would take quite a while, but we were actually quite lucky because most people have to wait a long time. It was his only hope because if he hadn't had it done the Hodgkin's would have definitely come back.
"I was very nervous for Kai, but I knew that it was his only chance."
Kai said: "Back then I was tired and wasn't very active at all and had to have a home tutor. But I'm back at school and I enjoy it very much now.
"It's been very tough and hard over the past few years but we got there in the end and now I feel very excited and very healthy; the healthiest I've ever felt before."
The Shersby family is now urging people to sign up to the Anthony Nolan register to help cure other sufferers.
"If you donate it will save people's lives," Kai said. "I feel very lucky and it's very nice of my donor because I wouldn't be here if he hadn't donated, so it's very important.
"If everyone donates then everyone gets a second chance."
Aimee added: "It's been a heartbreaking time but our story has a lovely ending and it's all thanks to Anthony Nolan that he's here."
Register at www.anthonynolan.org or call 0303 3030303