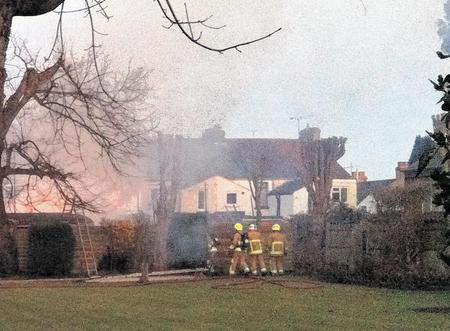 Smoke could be seen a mile away after a gardener made a bonfire too close to his shed.
The 8ft by 8ft shed was engulfed by fire last night behind a terraced house in Elm Road, Gillingham.
Two crews from Medway Fire Station pulled a hosereel for 50 yards across back gardens after the shed's owner raised the alarm at 7.30pm.
He had made a bonfire a few feet from a wooden shed containing two propane cylinders, probably used for barbecues.
Firefighters removed one cylinder and managed to isolate the other so neither exploded.
They put out the fire within an hour but the shed was completely destroyed.
A Kent Fire and Rescue Service spokesman said: "We would like to remind people not to have bonfires near their sheds.
"A bonfire may seem safe but flames can 'jump', especially in the dry weather we've been having."