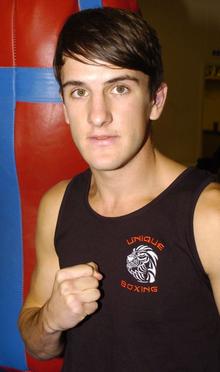 By Luke Cawdell
A knockdown inside the first minute failed to deter Adam Dingsdale as he picked himself up off the canvas to claim a sixth straight professional win
The lightweight from Hoo was stunned when Bermondsey-based Ideh Ockuko sent him to the floor after just 30 seconds of Saturday's contest at the Brentwood Centre.
It was the first time Dingsdale had been toppled but the setback was only temporary and the 25-year-old came back strongly to beat the former Nigerian Commonwealth Games representative.
"It was a good win and my hardest yet," said Dingsdale (pictured).
"He came out like a wild man and caught me by surprise but it was a flash knockdown. I was straight back up and knew I had some making up to do.
"I sank a few body shots and came good and won the other three rounds. It was a good fight and I enjoyed it, although it was a bit scary to start with."
Ockuko was drafted in late on to replace Hungarian Imre Nagy. Dingsdale only found out about the change the day before the fight.
The new man had pedigree, with a good amateur record and notable recent opponents including British light welterweight champion Gavin Hamilton.