The boxing community has paid tribute to a trainer who helped nurture a generation of top local talent.
Freddie Ludlow spent 30 years coaching young boxers at St Mary's Boxing Club in Chatham including Johnny Armour, Mick Fellingham and Ian John-Lewis.
St Mary's coach Dave Bowler described Freddie as a legend, while former Commonwealth, European and WBU Bantamweight champion Johnny Armour believes his successful career in the ring is all down to Freddie.
He said: Freddie used to work from 6am to 6pm but he would still make time to go to the club.
"The training sessions we had when I used to go there were unbelievable. Fred would take about 20 kids on the pads, one after another. I don't know how his arms took it.
"Before I started boxing I was a bit shy but Fred and the other trainers built up my courage and made me feel like a million dollars. He made me what I am today."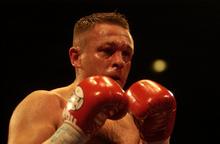 Freddie trained Johnny from the age of 10 to 21 when he turned professional.
He added: "Even when I turned professional I would come back a week before a fight to train with Freddie. It became a superstitious thing for me, I would have to come down before every fight.
"I 100% owe my career to Fred. I would never have been Commonwealth, European and WBU Bantamweight without him. He was a top man and he will be missed by many."
Freddie died on November 9, leaving behind wife Pat and three sons Dean, Lee and Danny. Hundreds of people attended his funeral at Medway Crematorium lastFriday.
Among them was top boxing referee and former St Mary's fighter Ian John-Lewis.
He said: "Freddie was a great trainer. A lot of kids are better off because of Freddie, even if they didn't make it as boxers.
"He was so respected. You won't find anyone with a bad word to say about him."
St Mary's coach Dave Bowler said: "Fred was a lovely guy. You would never hear him shout, but when he said something, people listened.
"A lot of kids looked up to Freddie, he was a legend."