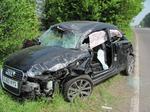 Boy racers who get together to show off their cars on Medway City Estate will be given some powerful safety advice on Friday evening.
Firefighters will be using hard-hitting tactics to drive home the importance of road safety at the session in Strood.
It is part of Brake's Road Safety Week, which runs from until Sunday, November 25.
Crews will drive home the safety message by telling young drivers about the importance of wearing seatbelts, not using a mobile phone while driving and the consequences of driving under the influence of alcohol or drugs.
Firefighters at Medway City Estate will also be informing young and new drivers about the importance of driving safely and how dangerous driving too fast can be.
Police and ambulance crews will also be involved.
Firefighter Lee Murphy said: "Last year, for every person injured and/or rescued from a fire by Kent Fire and Rescue firefighters, there were 24 people injured in crashes on the county's roads.
"A moment's lapse in concentration while driving can have devastating results, and at this time of year drivers can easily get caught out.
Insp Martin Stevens, from Kent's roads policing unit, added: "Kent Police takes a zero tolerance approach to all forms of poor road safety from failing to use a hands-free mobile phone while driving, to driving while impaired by alcohol or drugs.
"Poor road safety can have lifelong serious consequences."