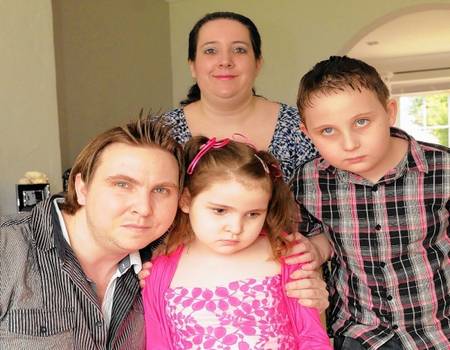 A year ago, Alyssa Loates was a happy, healthy little girl who loved Disney and playing computer games with her twin brother.
But in March 2012 she caught a vomiting bug which left her brain-damaged. Now the nine-year-old cannot walk or stand by herself and can only speak a few words.
Physiotherapy has helped Alyssa progress hugely - but her sessions have been cut back to just one a month.
Her parents Sarah and Vincent, of Walderslade Road, Chatham, have set up a campaign to raise the funds they need to pay for weekly sessions, which they feel Alyssa desperately needs to learn to walk and talk again.
Alyssa contracted norovirus at the beginning of March last year. After hours of being sick, she woke up confused and floppy.
She was taken to A&E where her condition quickly deteriorated.
Alyssa was diagnosed with OTC deficiency, a rare genetic disorder that causes ammonia to accumulate in the blood. If the level becomes too high it can become toxic.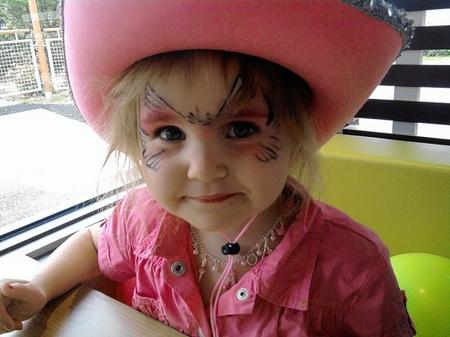 When
Alyssa started fitting she was rushed to the Evelina Children's Hospital in London. An MRI scan revealed swelling to her brain.
Doctors told her devastated parents there was nothing more they could do and she had just 72 hours to live.
Mum Sarah said: "We were told to say our goodbyes. For two hours I held her hand and begged her not to die. I told her that if she died, I'd die."
Alyssa's family were told they would have to make the decision to turn off her life support but they refused to give up hope and she kept fighting.
Alyssa slowly began to show signs of improvement and after 17 days on life-support, she was able to leave intensive care.
Sarah said: "The doctors said she wouldn't come off life-support but she did. They said she would never open her eyes, but she did. They said she wouldn't move her legs but she did.
"Every time they said she wouldn't do something she would do it.
"Doctors said what she was doing was medically impossible, she was like a miracle child."
"we were told to say our goodbyes. for two hours i held her hand and begged her not to die" – alyssa's mum sarah
Alyssa was discharged from hospital in May last year and spent three months at The Children's Trust rehabilitation centre in Tadworth.
Sarah said: "At a planning meeting before Alyssa came home we were told she would have physiotherapy once a week. But this only continued until November, then we were told she would only have one session a month. It isn't enough."
The couple have been told that a private session would cost £120.
He mum added: "When Alyssa first came home in September she couldn't do anything. But now she can roll, she can push herself up on her hands and knees, she can sit unaided and pull herself up. This is all because of the therapy.
"She is learning how to do these things but what she needs is more.
"To do anything independently again Alyssa needs therapy. She wakes up each day trapped in her own body. It is heartbreaking."
A spokesman for the Kent and Medway Commissioning Support Group said: "We are working with the family to ensure Alyssa's needs are met."
To donate, visit www.justgiving.com/faith-for-hope or www.faithforhope.com