A controlling bully who took his ex-girlfriend on a 70-mile terror drive after offering her a lift home at night has walked free from court after a judge decided he could benefit from a domestic violence course.
Daniel Gray was told if he had "harmed so much as a hair" on Cherokee Chadwick's head, he would have gone straight to jail.
"Generally speaking, if a man abuses a woman he will be taken to prison immediately - and for some considerable length of time," said Judge Charles Byers.
"There is nothing more cowardly than a man striking a woman, or putting her in fear."
But he added: "The domestic violence course has a tremendous measure of success. That is not to say you are going to walk from this court Scot free."
Gray, of Bristol Close, Rochester, was sentenced to 15 months imprisonment suspended for two years with supervision and 150 hours unpaid work after admitting false imprisonment.
A restraining order banning him from going within 400 metres of Miss Chadwick's home was imposed.
Maidstone Crown Court heard the couple had been in a stormy relationship and had a daughter together. It ended in May last year.
Miss Chadwick had gone out in Maidstone with friends on September 7 and Gray, 27, turned up where they were at the Beluga Bar in the town centre (pictured below). He also joined them at another bar.
John Fitzgeral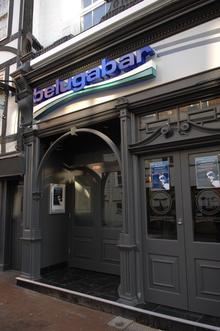 d, prosecuting, said Miss Chadwick was going to get a taxi home in the town but did not have enough money. Gray then offered her a lift.
He wanted to know why she did not want to be in a relationship with him and when she did not answer he became angry. He drove in the wrong direction, telling her he would not take her home until she answered him.
Gray went onto the M20 and M25 in the early hours and did not leave the motorway until the Godstone turn-off in Surrey.
"He was driving at speed," said Mr Fitzgerald. "She was very frightened, crying hysterically and pleading with him to take her home."
Miss Chadwick dialled 999 but Gray snatched the phone from her. He then called her father and gloated that he had kidnapped his daughter. Her father called the police.
The police phoned Gray and could hear hysterical screaming. Gray claimed they were just driving around. He was persuaded to take the victim home.
Judge Byers told Gray: "Miss Chadwick must have been terrified. She would have been captive for that length of time. She had no idea where she was going.
"She only knew she was in the presence of a controlling man who might harm her. That is the sort of behaviour that cannot be overlooked.
"You have an appalling record for violence, which shows you are not only controlling but also a bully. You are now distressed because you realise you might be facing condign punishment for the first time.
"However, there is merit in what your counsel says. If you fail, you will be brought back before me. I warn you I do not improve on second acquaintances.
"It is time, at the age of 27, you realised there are other people in this world, not just you. If a girl says she doesn't want you any more, you have to bite the bullet."
Told that Miss Chadwick had taken out a restraining order against Gray but asked for it to be discharged last year, the judge said: "She may have regretted that."