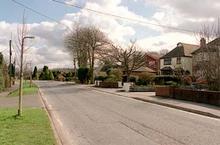 Villagers looked on stunned today as flames engulfed an entire bus.
The single-decker Nu-Venture service was said to have just dropped off a passenger when it caught alight in Blue Bell Hill village.
The driver pulled over to the side of the road just after 9am to get out - and the whole bus was on fire within minutes. No passengers were on board.
More than 20 neighbours gathered and witnesses were reported filming the dramatic rush-hour moment on their mobile phones.
Thick black smoke could also be seen several miles away.
Darryl Spicer, crew manager at Strood Fire Station, said: "We were expecting perhaps a bit of smoke, but the bus was on fire from end to end.
"The driver pulled over to the side of the road when he saw the warning lights come up on the dashboard. He was a little shaken up but he was uninjured."
Police closed one side of the dual carriageway in Maidstone Road for more than an hour.
About 10 firefighters put out the blaze using water and foam within about 20 minutes.
The fire, which firefighters believe may have been caused by an engine fault, happened surrounded by houses a few hundred yards from the centre of the village.
Did you see the blaze? Comment below or if you have any footage, please send it to medwaymessenger@thekmgroup.co.uk.