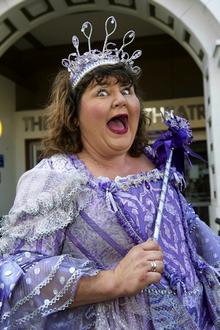 by Jenni Horn
Tickets are selling so fast for the Central Theatre panto that sometimes even the good fairy lends a helping hand.
As the countdown to Christmas begins, the box office has been busy taking calls from families keen to buy tickets for the production of Cinderella.
One caller who rang to book seats was astonished to hear the phone answered by none other than Cheryl Fergison – known to millions of TV viewers as EastEnders' loveable mum Heather Trott.
Cheryl, who plays the Fairy Godmother in this year's show, was passing through the theatre foyer during costume fittings.
She said: "The phones were going crazy so I thought I'd just help out.
"The customer was a bit surprised it was me, but he bought a load of tickets."
Producer Paul Hendy, of Evolution Pantomimes, added: "Cheryl's such a lovely person and game for anything, so we weren't surprised to see her helping out the box office staff. And we know she's going to be just fabulous as our Fairy Godmother."
Cinderella also stars Paul Burling, a Medway favourite with his brilliant comedy impressions, who got to the final of Britain's Got Talent.
Paul added: "So as Christmas is now approaching fast we would urge everyone to book now to get the best seats – and, of course, you never know who might pick up the phone."
Cheryl, who also appeared on Celebrity Big Brother earlier this year, will be getting in the festive mood on Saturday, November 24, when she helps Santa open the grotto at the Pentagon Shopping Centre
The opening follows a festive parade along the High Street which starts at 11am.
Cinderella runs from Thursday, December 13, to Sunday, January 6. Ticket prices start at £15 for adults with discounts available for under 16s, seniors and groups.
For more information, call the box office on 01634 338338 or visit www.medwaypanto.co.uk