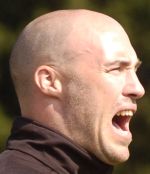 Chatham have put in an approach to sign striker James McDonald from Woodstock Sports despite an upturn in results.
A 3-0 away win over Ware on Tuesday night came hot on the heels of the 5-0 thrashing of Romford at the weekend.
Manager Kevin Watson (pictured) said: "We want to keep the players on their toes and haven't got a huge squad.
"If the right people become available, then we are interested but that doesn't mean we have dismissed interest in other players. We never rush into anything."
Chatham face competition from Nicky Southall's Whitstable for the signature of the 11-goal striker.
This weekend Chatham are on the road again in Ryman League, Division 1 North at fourth placed Aveley.
Watson said: "We will go there full of confidence and with those wins fresh in our minds."