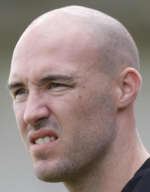 By Luke Cawdell
A goal-fest is not necessarily on the cards this weekend, insists Chatham boss Kevin Watson.
That is despite preparing for a game against a Soham Town Rangers side with one of the worst defensive records and one of the best attacks in Ryman League, Division 1 North.
Their opponents on Saturday have been involved in several high scoring encounters this season, sharing 19 goals in their last two games, following up an 8-2 win at Heybridge Swifts with a 6-3 defeat last weekend at Brentwood Town.
On home soil, they have won their last two games, beating Potters Bar Town 3-0 and AFC Sudbury 7-2.
"It doesn't always pan out like that and it will definitely a case of concentrating on ourselves," said Watson (pictured). "We are only in control of what we can do and not in control of other teams."
Chatham head into the match buoyed by a 2-0 win over AFC Sudbury last weekend.
Watson added: "Results have been up and down for us and it would be nice to pick up a couple of wins on the bounce but we've got a tough December."
Watson will have to make do without versatile player Matt Newman, as he is suspended, while forward Jack Jeffrey is struggling with a thigh injury.
Ian Varley has been missing with a knock but returned for the reserves on Saturday. He is back available for selection to the first team this weekend.