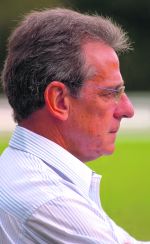 By Luke Cawdell
Chatham head to Needham Market this weekend boasting a much stronger goal threat than they did for their last outing.
Kevin Watson's side were beaten 1-0 last weekend by Soham Town Rangers. Chatham went into that league game missing three of their strikers along with suspended captain Matt Newman.
For Saturday's game Jack Pallen is expected to be back after illness and Harry Smith is involved again following a stint training with League 2 side Brentford.
Newman has served his suspension and there are also hopes that Jack Jeffery could soon be fit, after missing out through injury.
Watson may, however, be without left-back Liam Hickey, who picked up a groin injury at the weekend. On the plus side, defender Lewis Hamill is nearing fitness, having come through the last two reserve games, following his hamstring injury.
Director of football Steve Binks (pictured) said: "There should be some more players available in attack this week and even last week the team did well and were unlucky.
"It looks like at least two of the three strikers will be back and Matt Newman is also an attack-minded player."
Needham Market have yet to win a home match in the Ryman League Division 1 North but Binks warned: "They are going to win eventually but hopefully it won't be against us."