by Nicola Jordan
When the Broad family moved to Medway this year, they were determined to bring some festive cheer to their new home at Christmas.
So they have decked the outside of their house in Cliffe Woods with about £8,000 of lights, inflatable reindeer, polar bears, penguins, snowmen and plenty more.
The annual show of colour and lights is a work of art that dad Andy has built up over the past 20 years.
What started with a 2ft high Father Christmas has grown into a menagerie of inflatable animals, a dozen Santas singing, climbing a ladder and riding a motorbike and a hundred sets of fairy lights.
Poor health recently has meant 49-year-old Andy can no longer climb ladders and scaffolding to erect the festive show so he has passed on his skills to son Aaron.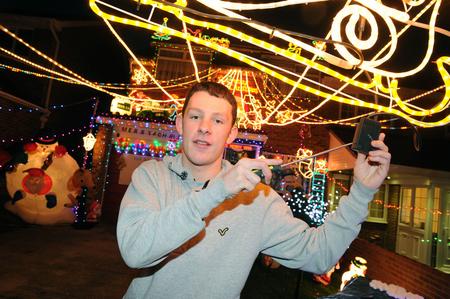 The 16-year-old has spent the past three months checking electrics and designing the set.
They pair invited villagers to the grand switch-on outside their semi-detached home in Reedham Close.
Almost 100 people turned up for the ceremony, performed by dad-of-five Andy, who dressed as Father Christmas and handed out sweets to children.
Andy and Michelle, 44, moved to Cliffe Woods from Orpington, where Andy used to be a butcher, because they wanted "a quieter life and better place to bring up the children".
what you can expect to see in the broads' front garden:
eight santas
eight polar bears
six penguins
six reindeer
four large trains (one moving)
a 6ft tree
15 sets of rope lights
up to 100 sets of fairy lights
two merry christmas signs
two lanterns
Andy said: "Christmas has always been a big thing in our house and, in fact the whole of December is pretty special because we have three birthdays in our family.
"We put up flyers in the village, but we were not expecting that many to turn out. They were saying they had never seen anything like it.
"It's all about the children. To see the smiles on their faces is better than winning the lottery for me."
Aaron, who is studying public services at MidKent College, started putting the scaffolding up at the beginning of November ready to put the festive extravaganza in place.
Andy said: "It's certainly worth the extra £50 or so on the electricity bill.
"We get our decorations from the Christmas shops that pop up every year in the high street and on eBay and when Woolworths went bust we stocked up on a lot there."
Michelle said: "It's fantastic, the best we've done so far. We have a little boy living next door who absolutely loves it. It's certainly a good way of getting to know your neighbours."
The family have put collection boxes out and proceeds will go to the Kent Air Ambulance.
Have you seen a better Christmas lights display than the Broads'? Email pictures to multimediadesk@thekmgroup.co.uk.