A voluntary code on gambling could be in place within months to protect residents from spiralling into debt.
Community safety chief Cllr Mike O'Brien (Con), Labour leader Cllr Vince Maple and Liberal Democrat leader Geoff Juby discussed the issue with Rob Burkett, national policy development manager from the Gambling Commission at a meeting yesterday.
Following advice from the organisation, the council will now work with betting shops, bingo halls, licensed amusement arcades and others to set up the code.
It could include making sure self-exclusion from betting shops is better enforced, by ensuring communication between branches of the same bookmakers and also different companies.
Concerns have been raised about the level of debt in the Towns, and in particular the lure of betting machines that have been called the "crack cocaine" of gambling.
Shocking statistics released last year revealed more than £200 million is spent on Fixed Odds Betting Terminals in Medway each year. The machines allow players to bet on the outcome of various games and events with fixed odds.
The most commonly played game is roulette and others include bingo, simulated horse racing, greyhound racing and a range of slot machine games.
There are 135 across the three Medway parliamentary constituencies – Chatham and Aylesford, Gillingham and Rainham and Rochester and Strood.
The time between spins of the roulette wheel is about 20 seconds and it is possible to bet up to £100 a time – or up to £18,000 an hour.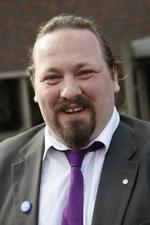 Cllr Vince Maple (pictured right), leader of Medway Council's Labour Group, said it was time for the industry to "put up or shut up".
"This is a chance for the industry to prove they care about problem gamblers and are not just exploiting people, which is the perception people have."
Cllr O'Brien said: 'We are very concerned that these highly addictive machines can leave local residents in serious financial trouble very quickly.
"I am grateful to the Gambling Commission for their advice and guidance, which included some other examples of councils taking different approaches to this issue - these examples may well be things which Medway Council can learn from."
Scarborough Council holds regular meetings with gambling companies, something which could be established here in the Towns.
A spokesman for the Association of British Bookmakers challenged the Campaign for Fairer Gambling's figures.
He said: "Electronic gaming machines in betting shops return 97% to the player, which means the real figure is most probably 3% of what is being claimed.
"While it is accurate that the industry generates profits of around £1.4 billion on all machine games (including slot machines), the claim that £5.6 billion was spent on machines in the 50 most deprived areas in the UK last year is simply false."
The spokesman said the average amount of money spent by a person on the machines is £10 and they spent around 20 minutes on the terminals at a time.
He added: "The only way someone could lose £18,000 an hour is if they put £100 into a machine every twenty seconds and lost every single game.
"There is more chance of winning the National Lottery for three consecutive weeks than that happening."
The ABB has agreed to meet with Medway Council to discuss concerns about Fixed Odds Betting Terminals.