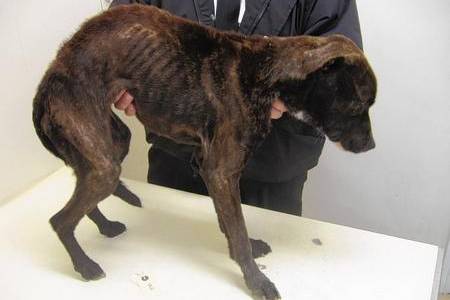 A starving dog was so hungry it resorted to eating plastic bags, a vet discovered after putting the animal down.
The owner of Alfie, a two-year-old Staffordshire bull terrier, has been jailed for 12 weeks and banned from keeping animals for life.
Shane Spearpoint did not feed the dog for weeks and when an RSPCA inspector went to his home after a tip-off he found the dog lying lifeless on the floor.
Alfie weighed just over a third of that of a healthy dog and was so emaciated he had to be destroyed.
Shane Spearpoint, formerly of Corporation Road, Gillingham, had owned Alfie since he was six-weeks-old and also owned another Staffordshire bull terrier called Daisy, which he fed regularly.
Spearpoint, 24, now of no fixed address, pleading guilty to causing unnecessary suffering.
Ellie Newbery, prosecuting at Medway Magistrates' Court, said: "Plastic bags were found inside him when a postmortem was carried out and there was a lamb bone in his oesophagus obstructing it."
For the full story, pick the Medway Messenger - out today.