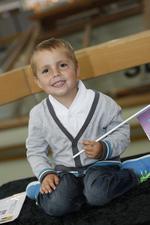 Hundreds of families have taken part in Cute Kids 2012, our popular children's photo contest.
There's not long to wait now as the pictures will be appearing in the Medway Messenger on Friday, March 23.
Photographers from Starlight Studios were at Hempstead Valley Shopping Centre last month taking pictures of your lovely children – and there was a big demand from people keen to take part.
The competition has been revamped this year with a prize pot of £2,000 awaiting the winners. The top three from two age categories will be judged by a panel and two overall winners announced at a ceremony at the shopping centre.
They will follow in the footsteps of last year's winner, Caiden Gant, from Allhallows.
As soon as the pictures appear, voting will begin and full details of how to cast your votes will be in the paper on March 23.
Don't miss it!